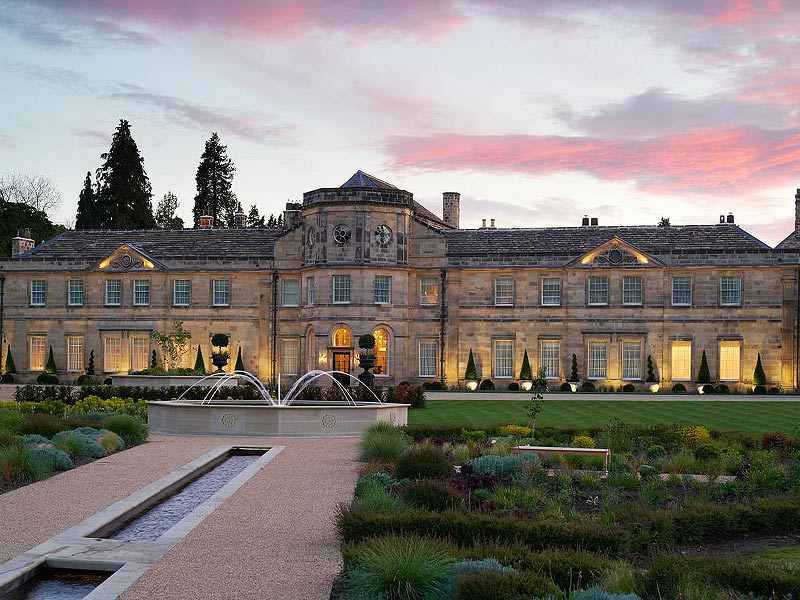 Grantley Hall, Luxury Spa Hotel, Ripon.
Grantley Hall Project
Background
Grantley Hall, is a Relais Chateau accredited hotel, located near Fountains Abbey in North Yorkshire, a Unesco World Heritage site. It is a distinctly different luxury hotel and wellness retreat, set against the stunning backdrop of the Yorkshire Dales. Built in 1680 and surrounded by beautiful landscaped grounds, Grantley Hall features 47 exquisite rooms and suites, a tranquil spa with indoor swimming pool and extensive wellness facilities. Owner Valeria Sykes is passionate about restoring the Grade II* listed mansion house back to its original splendour and making the most of all the wonderful produce and resources available in her native Yorkshire.
applicArt were contacted by Architects Bowman Riley and construction Company R N Wooler to work with them to produce finishes in keeping with the overall vision, in a short timescale, with a top quality out turn.
Using our global leading brands of Italian marble, lime and quartz plasters with our best Artisan tradesmen. We used our locally mixed (here in the UK) Multi tone sandstone grit and quartz Travertino. (MVT 1039)
We were commissioned to work on the Pool Hall Columns, Spa Entablature and Rotunda, Spa bedroom entrances and Fountain Niches.
March to June 2019
One of the best 5 Star Hotel's in the North of England, fine finishes throughout, creating pure luxury.
Sample Control
After numerous client meetings, obtaining final finish detail from the client, a bespoke specialist finish was chosen. A sample board created, approved and signed off in January 2019. With the complexity of the project and the finish, the importance of site visits and the work in progress aided the applicArt team to maintain control of the mixing of the materials to match the multi tone sandstone grit and quartz Travertino on each and every application.
Fully computer controlled mixing at applicArt head office facility.
Fibreglass mould received and ready for the start of the application process.
Fibreglass-Entablature
Fibreglass Rotunda
Entablature
Installation starts and making way for lighting details
Rotunda & Entablature
Base work of the Rotunda
Finals of Entablature & Niche's
Niches, Guest Bedroom Entrances & Entablature.
In the images below, you can see there is a natural stone column, the applicArt finish on the niches matches this perfectly. Also in view are progress pictures of the entablatures. The other image shows the Guest Bedroom Entrances going through a Quality Control Check.
Column Bases & Lighting.
Column lighting set                   Fibreglass bases for Columns
Pool Hall Columns
The stunning Pool Hall was designed with 41 columns, some of which sit directly in the swimming pool. The images below highlight the application process and the use of our sample control board to match the finish applied to the columns.
Swimming Pool Hall & Spa.
Client Feedback
"The applicArt team are technically sound extremely knowledgeable. They delivered and completed within programme to client satisfaction in an extremely challenging working environment."
James Fawcett. Senior Commercial Manager RN Wooler. 08/08/2019