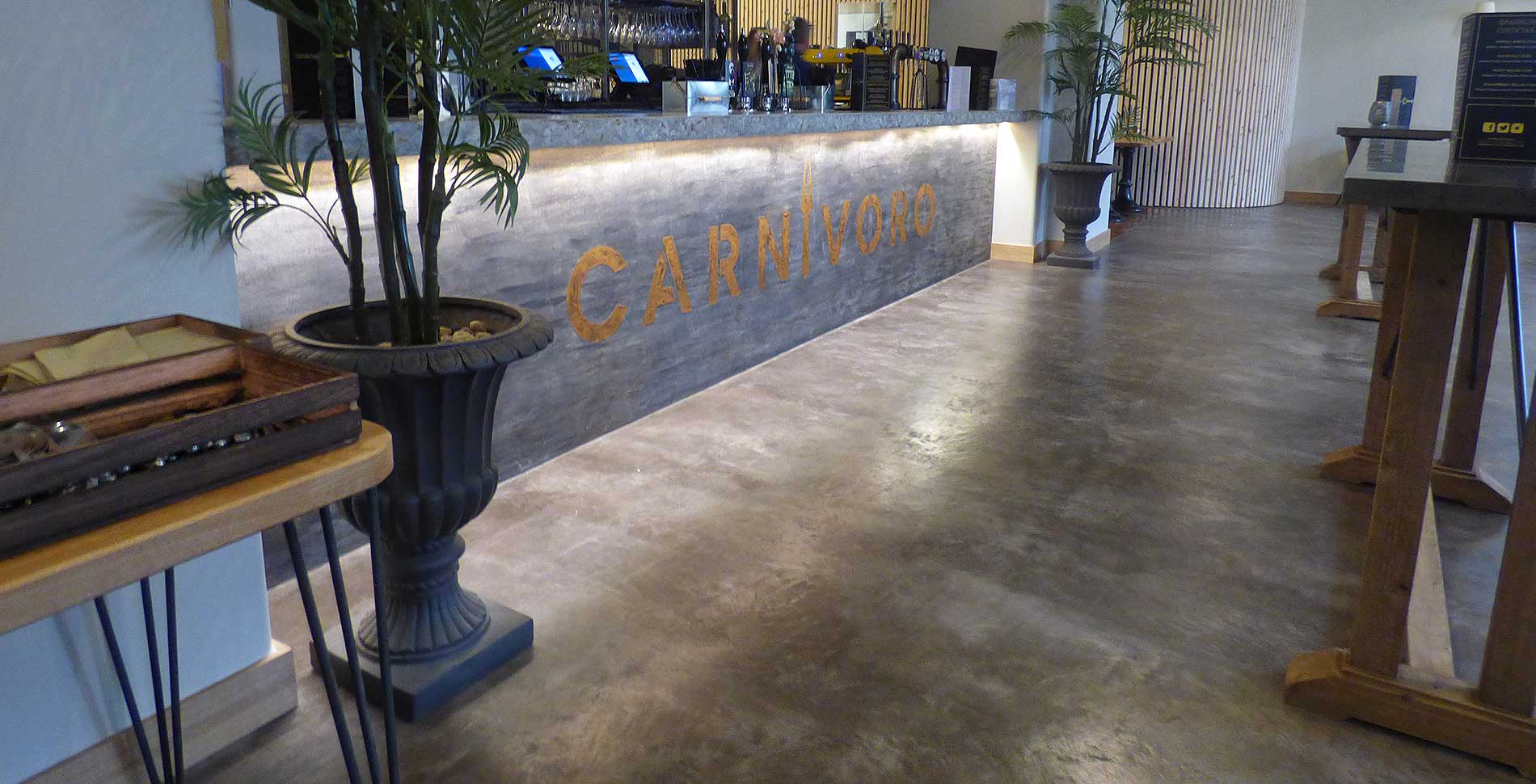 Micro Cement application
As well as being experienced applicators of micro cement materials, applicArt are also the UK's sole supplier and distributor of Topciment micro cement.
What is it, where do I use it, and can I do it myself? Those questions will all be answered in the article.
So what is Micro Cement?
Micro cement is a cement based material that is used to seal and cover existing flooring, walls ceilings and other surfaces such as bar tops, work surfaces and tables. Its main benefits include the aesthetics, the longevity, variety of colours and its cleanliness.
The aesthetics
Micro cement is chosen by interior designers and architects from all over the world because it has the edge on other screed and cement due to its modern and stylish looks.
Longevity
Some of its main properties are the fact that it has a high resistance to abrasion (5 times higher than that of concrete), It is very resistant to weight, permanent footprints, friction, shock, high, anti-slip, temperatures, water, moisture and to ultraviolet.
Lots of examples see micro cement being used in high traffic areas since it bears weight so well. It also copes very well against fluctuating heat and water. Perfect for Saunas and Steam rooms.
Variety of colours
There are more than 1500 customised colours, and 50 standard colours available to choose from.
Cleanliness
No debris is created during the application meaning no cleaning to do at the start or end.  The application of the micro cement is a clean, quick process, one of the reasons people prefer it over normal cement or concrete.
It is very easy to maintain and keep clean. The cleaning is a simple process, just a mix of mild soap and water will work best for cleaning the floor on a daily basis, in high traffic areas you can weekly use the Topciment cleaner product that will help with degreasing, leaving the floors clean and shiny. To ensure the micro cement's long lasting qualities, every couple of months apply the Topciment product, this is a polish that should be applied once the floor is clean and dry, this specially formulated product is hand applied helping maintain the products high performance.
Where can I use it?
Micro cement can be used in various different places. It performs well in high traffic areas so can cope well in hallways and showrooms. Its weatherproofing means it is perfect for decorative courtyards, gardens and its aesthetics make it perfect for inside homes working well in feature rooms, kitchens and living rooms.
In the past, we have seen micro cement used in a lot of different ways and it never seems to disappoint. It always looks modern and stylish. Here a few of our favourite examples over the last 12 months.
Can I do it myself?
The answer is YES! If you are interested in trying your hand at applicating micro cement yourself you can attend one of applicArt's monthly training courses, where you will learn all about the prep work involved, using the right tools for the job and learn all about the different technical qualities throughout the Topciment range. You can read more about our training courses here.
However, if you don't want the hassle of it all and you just want a professional team to come in and lay your floor contact the applicArt team for a free quote……
Overall micro cement is a stylish, inexpensive improvement on regular cement and concrete based screeds. To enquire about Micro Cement floors or to get some more information contact us now.